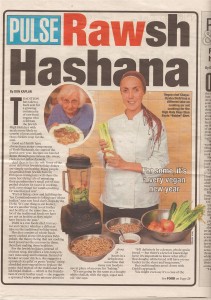 Rawsh Hashana
By DON KAPLAN
TRADITION has taken a back seat for a growing community of raw-food vegans who celebrate the Jewish High Holidays with meals more likely to consist of peas on Earth than chicken soup for the soul.
Food and family have always been major components of Rosh Hashanah, the start of the Jewish new year. Recipes are handed down through generations like sweet, cholesterol-infused jewels.
And therein lies the rub. Some of the most delicious Jewish holiday dishes are simply not healthy. Many people descended from Jewish Eastern European immigrants will share the same horrifying tale of mistaking their grandmother's small pot of congealed chicken fat (used in cooking, well, everything) for vanilla pudding. Or was that just me?
"Part of being a Jew and fulfilling the Ten Commandments is taking care of our bodies," says raw food chef Chaya-Ryvka Diehl. "It's one thing to eat kosher, but it's another thing to eat kosher and healthy at the same time, so a lot of the traditional foods we have are not as healthy as they might have been in the past."
Diehl is a raw foods chef, instructor and caterer who has a different take on the traditional holiday meal.
Her diet consists of whole foods never cooked above 120 degrees Fahrenheit, the theory being that not cooking food preserves the enzymes in them, therefore making them healthier.
For the Jewish holidays, instead of chicken soup, she offers a low-temperature miso soup and hummus. Instead of brisket or roast chicken, she suggests a sprouted rice pilaf or pesto "pasta," using shredded root vegetables to replace the pasta. And instead of the traditional Jewish bread challah — which is the foundation of every kosher meal — she suggests a sprouted whole-grain mixture dried for about 24 hours in a dehydrator, a machine that many raw foodists use in place of an oven for "baking."
"It's not going be the same as a doughy white challah, with the eggs, sugar and oil," she says.
"It'll definitely be a denser, whole-grain bread — but there's a level of knowledge here; it's important to know what effect that doughy, white bread will have on our bodies in the short and long terms."
But traditionalists aren't down with Diehl's approach.
You might even say it's a case of the bubbes versus the beet eaters.
"There are certain tastes and aromas that are associated with the holidays, and it's hard to find a way to substitute for them," says 83-year-old Bayla "Bubbe" Sher, the host of the popular online cooking show "Feed Me Bubbe."
On the show, Sher instructs her grandson on the basics of how to cook traditional Jewish dishes. Since its debut in 2006, the show has developed a huge following online, and Sher has been lauded as a pioneer among Web stars.
"It's a funny thing, when my kids went off to college, they came back saying they were vegetarians and it hurt me so, because I didn't know what to do," says Sher.
"Since then, I've worked with the tofu, the miso and all these other items; sure it's a substitution, but you just can't get the same cozy, traditional flavors and tastes. I cannot imagine getting the taste of the chicken soup without the chicken!"
Diehl counters, "When I'm making raw foods, my kitchen smells delicious. The process of blending and processing foods, especially in the dehydrator, creates an aroma that fills your house. You have this sense of aliveness in your kitchen — that there's something going on and that there are all sorts of delicious foods coming that we'll all get to enjoy."
Bubbe?
"If they have the right spices, I think that will go a long way towards bringing the flavor back towards tradition and creating the kinds of tastes and
smells that I'm sure they'll enjoy," says Sher magnanimously. "For me, the most important thing in my opinion is that they celebrate the holiday and understand its meaning."
Bubbe's Chicken Soup● Boiling water (to make sure chicken is clean) ● 3 to 4 chicken leg quarters ● 6 cups water (cold) ● 2 stalks celery, with leaves cut into thirds ● 1 medium onion, cut in half ● 1 carrot cut in thirds ● 1 small parsnip (optional) ● 5 pieces of dill and/or parsley ● 1 chicken cube or salt for taste
Remove excess fat from chicken quarters, but leave the skin on. Rinse chicken with cold water, place in a large bowl and pour boiling water over chicken. Rinse with cold water and place chicken in soup pot. Add six cups of cold water into pot and bring to a boil. Remove scum that forms on top with spoon and then lower the burner to the low setting and continue cooking. Let simmer for one hour. Add vegetable ingredients to the pot. Bring to a boil again and then back to low. Let simmer for an additional 30 minutes to an hour.
With fork, check to see if chicken is soft and if the carrot is cooked. Remove chicken from the pot and, using a strainer, strain the soup into large bowl. Keep the carrots and throw away the other vegetables, as they will be overcooked. Carrots can be cut into cubes and added into the soup. Place chicken pieces on the side on plate. When soup is cooled, cover the bowl with plastic wrap and place in a refrigerator. The fat will rise to the top when it is cold enough. Remove fat with spoon. To serve, heat soup and serve with cooked fine noodles, white rice and/or matzo balls.
Chaya-Ryvka's Fresh Celery Fennel Soup ● 4½ cups celery, chunked ● 1 cup zucchini, chunked ● 1 medium head fennel, chopped ● ½ a lemon, juiced ● ¼ cup olive oil, optional ● 1 clove garlic ● Raw sea salt and pepper to taste
Place all ingredients into a high-speed blender and blend until smooth and creamy. Serve drizzled with olive oil and decorate with fennel greens. Store refrigerated for up to four days.